Mandarin Electron - progress of Theremin from Japan
News
2019, 100th anniversary from the invention!
2019 is the year 100th anniversary from the invention Theremin! We will hold the event "Attempt for the update record of Guinness World Record" in Tokyo!
We set the record "The Largest Theremin Ensemble" by 272 players by matryomin ensemble in 2013.
Please come and join us with your matryomin!
Masami Takeuchi's Theremin Music. 
Masami Takeuchi - Japanese professional Theremin player, founder of Mandarin Electron has released 1st Theremin CD "Time Slips Away" in 2001. Now available in "Amazon MP3 store", "iTunes store". Listen it and enjoy.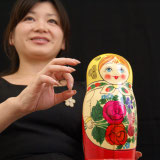 We were in Russia!
Masami Takeuchi and his students went to Russia in the end of September 2015. Concerts were held in Sankt-Peterburg (20th Sep.) and Moscow (24th Sep.).
You can watch digest video of our concerts.